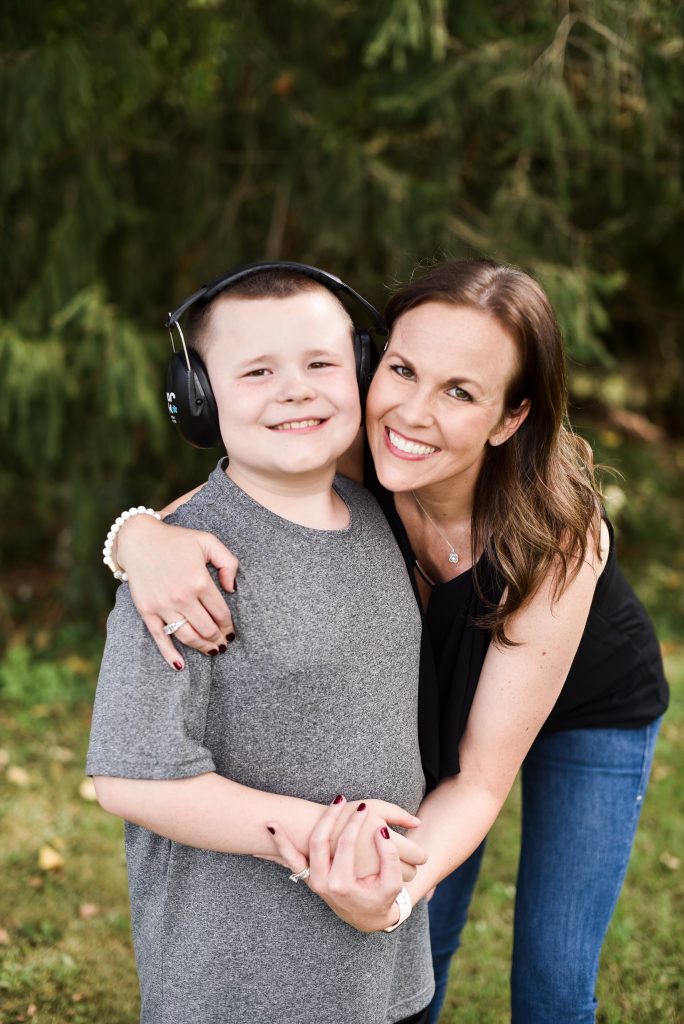 photo credit: Brea Schmidt
MEET A MOM – CHRISTINA ABERNETHY
ADVOCATE AND FOUNDER OF LOVE, HOPE AND AUTISM
Where are you originally from, and how long have you lived in Pittsburgh?
Born and raised in Pittsburgh! I've lived here my whole life.
How many kids do you have and what are their ages?
We have 3 children. Selena is 19 and our twin boys, Ethan and Braidan, are 10 years old.
What do you love about living in Pittsburgh?
I love that we have all four seasons here! I love the crisp air and leaves changing colors in the fall. And I LOVE a white Christmas! We also have an amazing support system with a ton of resources for our son. It's not like that in all states so we are beyond grateful for what we have. 
What's your favorite restaurant and/or place to shop in Pittsburgh?
My favorite restaurant is Clifford's (up north in Evans City – down back country roads.) The best place to enjoy an anniversary dinner or celebrating anything really! Amazing homemade food! (You need to call ahead and make reservations. Sometimes months in advance.)
Local shops I enjoy are Fresh Thyme and Pittsburgh House of Oils. 
Tell us about your business/cause.
I am a dedicated wife, mother of three, and passionate advocate for people impacted by disabilities. I have coordinated events to fund research, supports, and service dogs for families. I have served on local committees, coached an adaptive cheerleading team, and won awards for successful fundraising endeavors including those for "Team Bubba," honoring my son with autism. I am the founder of Love, Hope and Autism and I'm proud to be the coordinator for Changing Spaces Pennsylvania, a movement to build accessible restrooms with powered height adjustable adult sized changing tables across communities to promote inclusion. I am working with legislators to pass a bill in Pennsylvania that would require such facilities in hospitals, airports, museums, rest stops, sports arenas and more. I also work as a Family Support and Community Engagement Specialist at Achieving True Self, supporting families like my own. I am committed to spreading a message of heightened awareness and acceptance of differences, ultimately inspiring hope. 
What do you love about your job?
I love helping and supporting other families that have a loved one with an autism diagnosis. My advocacy work also brings so much joy and purpose to my life. I have been incredibly grateful to be connected with people all around the country. Our hard work is making significant change and we are creating a more inclusive and accessible world for ALL people.
What is your favorite thing to do with your children and/or family?
We love being outside and taking in the fresh air! It instantly boosts your mood when you get out in the sun and have fun!  We enjoy going to the park, visiting the zoo and we always look forward to our annual beach vacation in the summer!
How do you juggle work and motherhood?
I'm going to be completely transparent here. This has been VERY hard to juggle as a mom of three and one of our children having a disability. Our life is very different from a typical family next door. Between therapies, meetings and doctor appointments, it didn't leave much time for me to work. I left nursing school to be fully present during my son's therapy sessions and be there for whatever he, or his siblings, needed. After our boys were in kindergarten, I started working again. I have had a few different jobs as I tried to work around the needs of our family. I am grateful to say that I have found my dream job with Achieving True Self. I primarily work from home and attend events in the community. I'm also able to add in my advocacy while working to help reach more individuals in the community. 
How has the Pittsburgh community been instrumental in getting you to where you are now?
I am thankful for the outpouring of support I have received from local nonprofits, state officials and families across our community. Changes are being made with the addition of powered height adjustable adult sized changing tables in family restrooms. The installation of these tables are making family restrooms more inclusive and accessible for all people, regardless of ability, age or gender.
What's the best piece of advice you've received from another mom?
My good friend Brea, from The Thinking Branch, always keeps me humbled. Her words, her perspective and her heart have made a huge impact on my life. I don't think there's one particular piece of advice that sticks out the most but having a friend who shows up and is willing to sit in the trenches with you… that's priceless. I'm forever grateful for her friendship and providing a safe space to talk about the good, the bad and the ugly. And she does it with such grace and empathy. I hope you find yourself a mom friend that's as incredible as she is. 
Is there anything that you would like to share with other moms?
I have two! First, please teach your children about people with disabilities. Not just autism, but all differences! Read books, watch videos and open up the conversation for them to ask questions. Being educated and understanding of differences will bring more acceptance. And remember, be kind. Always! And my second piece of advice would be that we have to look out for each other and offer more support. So often I still see mom shaming or judgement. Not just on social media but in person as well. I think we have to remember that we are all human. Nobody is perfect. Share a smile, give grace and remember we're all doing the best we can. 
Want to learn more or get in touch with Christina?